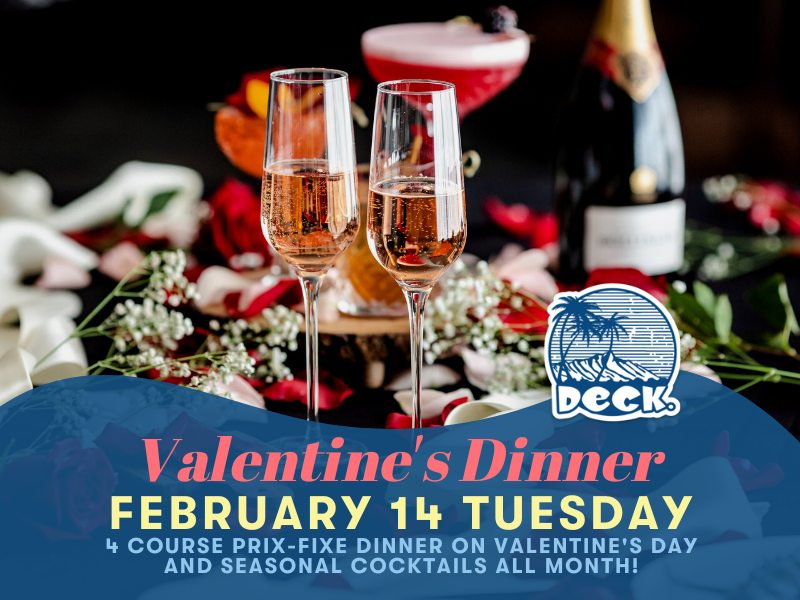 VALENTINE'S DAY DINNER
Deck. will have a one-night-only $85+ per guest 4-course prix-fixe dinner with a complimentary glass of sparkling rosé or non-alcoholic cider to toast the special evening. Guests will be able to choose one dish from each of the courses including dessert.
View Special Menu
*Prices & menu/ ingredients are subject to change.
Live Performances:
4:00PM-7:00PM FREDDY LEONE @freddyleone_
From writing ballads, island culture sound, Alternative/Experimental R&B, Freddy Leone is starting to really have his hand in a bunch of different sounds and genres. He is known for his unique style of songwriting with co-write credits on songs that have made it to tv shows like Grey's Anatomy, Grown-ish, All-American, and a few others. Freddy got his unique taste in music from being brought up in the extremely diverse island of O'ahu, Hawai'i, along with the inspiration from his Motown-raised Father, and mother being from Los Angeles, CA. Freddy speaks of artists like Frank Ocean for their ability to paint pictures ever-so-brightly on their music canvases, and takes his vocal inspirations from fore-founding singers like Stevie Wonder, and Fred Hammond.
7:30PM-10PM MAR MCNALLY @marmcnallyofficial
Mar McNally is a singer-songwriter born and raised in Ireland. She always had a passion for making music and was told she whistled before she could talk. She first picked up a guitar at age 7 after hearing James Taylor's "Sweet Baby James." When asked to describe her music style, McNally says, "I don't have a style. I sing what I like and what brings me emotions. If I feel something in a song, I want you to feel that something with me."
Reservations
Book Online: https://www.opentable.com/r/deck-honolulu
Holidays parties of 15 or more guests, please reach our from our contact form.
More information
– Both the restaurant and bar will be closed for Happy Hour from 2:00pm – 4:00pm in preparation for Valentine's Day service.
– Our regular a la carte menus and take-out will not be available.
– Kids are welcomed! Regular kids "keiki" menu will be available for ages 12 and under.
– Prices are per guest and does not include additional drinks, tax and gratuity.
– Menus are subject to minor changes without advance notice. A preview of the menu can be viewed on our website.
– Reservations are highly encouraged and availability can be viewed on our online booking system. Walk-ins will be welcomed but seating will not be guaranteed without a reservation.
– Credit card required for reservation. There will be a no show fee of $65 per person.
– Hotel valet parking is limited and expected to be full all night. Please be prepared to arrive early to find street parking. We recommend checking parking availability across the street in the Honolulu Zoo parking for $1.50 per hour which is expected to fill up quickly as well.
– There is no dress code to enter the restaurant.


Business hour changes
Kindly note we will be closed for happy hour 2:00pm – 4:00pm on February 14th in preparation for Valentine's Day dinner.
Be safe and reserve a table! https://www.opentable.com/r/deck-honolulu
Whole Size Basque Cheesecake
Preorder our popular dessert in a whole size that serves 4 – 6!
Available all-year-round, but what better excuse to sweeten up Valentine's!
Visit the order page for details: https://www.knotscoffee.com/shop/p/basque-style-cheese-cake