Let our Chefs prepare your Thanksgiving meal on Nov. 24th Thursday.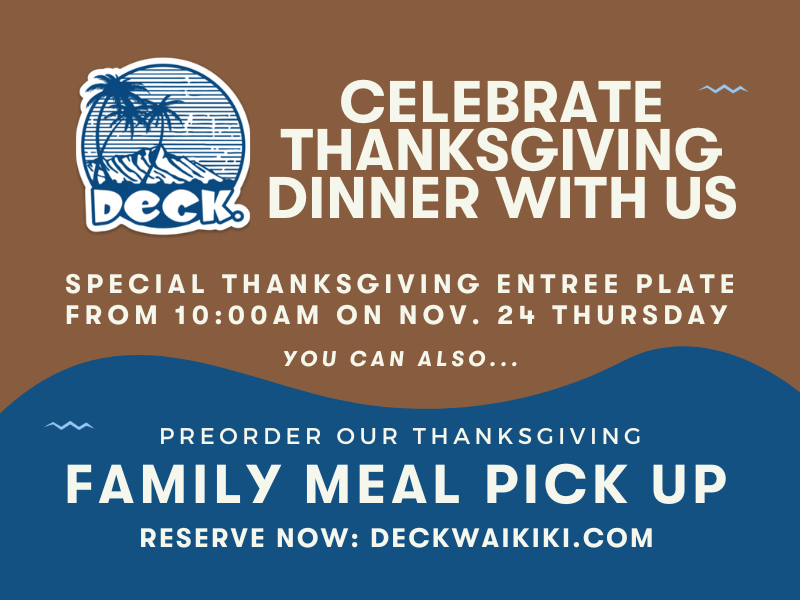 Thanksgiving Entrée Plate
Book a table and enjoy a Thanksgiving entrée plate from 10:00AM – closing.
For $37 your plate will consist of the following:
Roasted Turkey, Gravy, Mashed Potatoes, Cranberry Sauce, Stuffing, Creamed Spinach, Pecan Tart
Reserve a table: https://www.opentable.com/r/deck-honolulu
*Prices & menu/ ingredients are subject to change.
Heat-and-Serve Family Meal Pickup
 [PREORDER HAS ENDED] Reserve your easy heat-and-serve family pack (serves 4 – 5) with turkey and all of the traditional fixing to be picked up on Thanksgiving Day!
Whole Size Basque Cheesecake
Preorder our popular dessert in a whole size that serves 4 – 6! Available all-year-round, but what better time than the holiday season!
Visit our order page for details: https://www.knotscoffee.com/shop/p/basque-style-cheese-cake