Spend a special Christmas dinner with us and a free photo session with Santa Claus!
We are also accepting last minute holiday parties.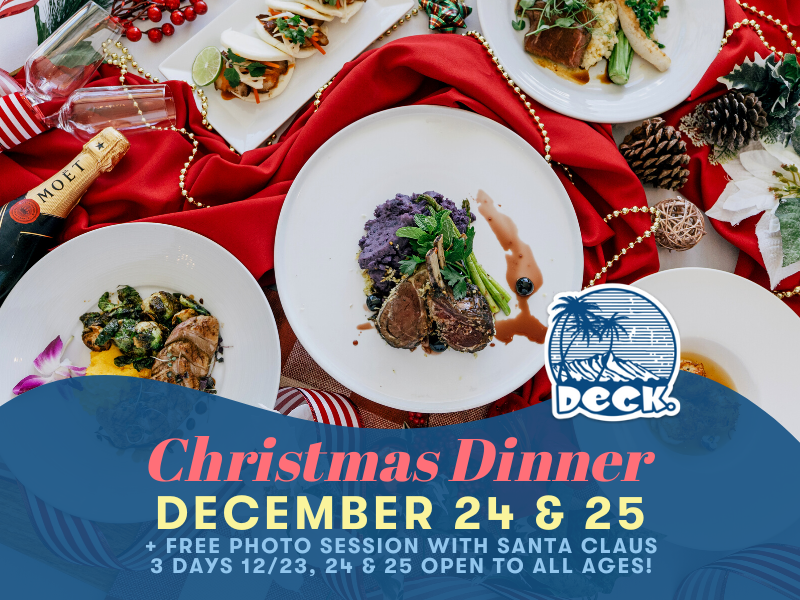 CHRISTMAS EVE & DAY DINNER
Our two-night only special menu to celebrate Christmas is now available on our website!
Dress up and be prepared to also have a photo taken with Santa Claus!
View Special Menu
*Prices & menu/ ingredients are subject to change.
Reserve a table: https://www.opentable.com/r/deck-honolulu
Holidays parties of 15 or more guests, please reach our from our contact form.

PHOTO SESSION WITH SANTA CLAUS
Open to all ages! No purchase or reservation necessary, although we will have holiday cocktails and mocktail we'd love for you to stay and try!
Photo with Santa Claus will be on the following dates & times:
12/23 Friday 6pm – 9pm
12/24 Saturday 6pm – 9pm
12/25 Sunday 10am – 1pm

HOLIDAY BUSINESS HOURS.
Kindly note the following changes:
Dec. 5th Monday – Closing early at 8pm due to a private event in the late evening.
Dec. 24th Saturday & 25th Sunday
Serving a special Christmas dinner! Closed for Happy Hour 2pm – 4pm in preparation for our special dinner, menu now available on our website.
We have extended our business hours on Friday & Saturdays! We will now be open until 11pm.
Be safe and reserve a table! https://www.opentable.com/r/deck-honolulu
Whole Size Basque Cheesecake
Preorder our popular dessert in a whole size that serves 4 – 6!
Available all-year-round, but what better time than the holiday season!
Visit our order page for details: https://www.knotscoffee.com/shop/p/basque-style-cheese-cake