Sunset Sessions concert series is back on Deck!
We are kicking off its return on July 31 with Kapena, considered one of Hawaiʻi's premier island bands, mixing reggae and pop with traditional island music. Join us for an evening of great music, food, craft cocktails, and breathtaking views of Diamond Head!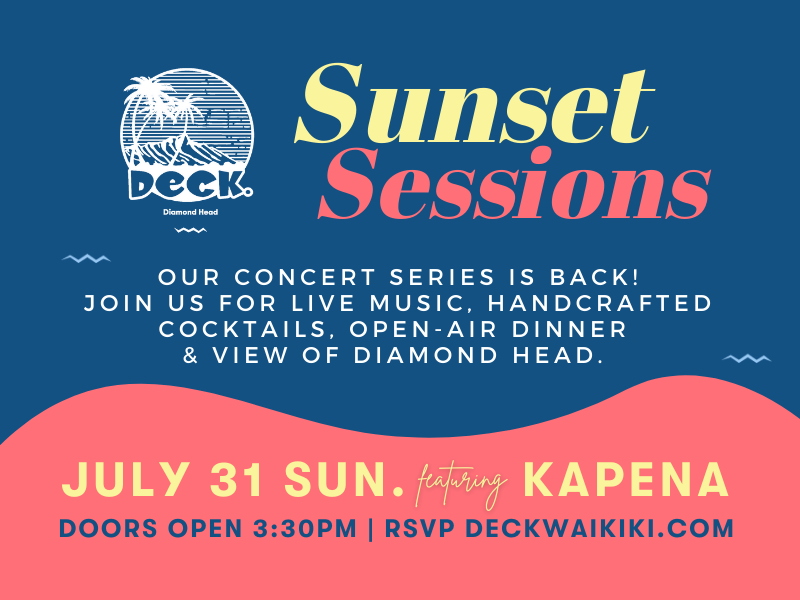 ABOUT THE EVENT:
On Sunday, July 31, Sunset Sessions at Deck. will feature Kapena @kapenamusic considered one of Hawaiʻi's premier island bands with over 20 albums and multiple Na Hōku Hanohano Awards. Established in 1985 by front man "Kelly Boy" De Lima, in the early 2000's, Kapena added Kelly Boy's family including Kapena, Kalena, and Lilo. With a signature "electrifying" sound that features a blend of Reggae, Pop, and Hawaiian music that has filled the concert venues around the world.
Sunset Session attendees will be greeted by the sounds of DJ Subtoll @subtoll pre-show and throughout the evening. Guests can enjoy the Sunset Sessions-exclusive launch of four new Grey Goose Vodka sponsored Essence cocktails handcrafted by Head Bartender Jessica Newalu.
EVENT DATE & TIME:
Date: Sunday, July 31, 2022
Time: 4:00 – 8:00 PM
Seating begins 3:30pm / Main act 5pm
RESERVATIONS & PRICING:
Reservations are required for entry with seating to begin at 3:30 PM. Event check-in will take place on the second floor of Queen Kapiolani Hotel in the Royal Gallery for ID check prior to entry, the guest artists will begin performing at 5:00 PM.
While there will be no cover charge, however, there will be a food & beverage minimum, and 3 tiers of seating for partygoers this year:
Premium seating, $65 food & beverage minimum + 18% auto-gratuity

Standard seating $50 food & beverage minimum + 18% auto-gratuity

Standing room, $25 person, includes 1 drinks ticket per attendee + 18% auto-gratuity
There is an 8-person maximum per table with limited large party seating.
– Cancellations allowed up to 24 hours in advance.
– Full price will be charged for no-shows and same-day cancellations.
Admission: No cover charge; Table reservations required for premium ($65 per person) and standard seating ($50 per person) spend per person minimum, plus 18% auto-gratuity. Standing room will also be available at $25 person and includes 1 drinks ticket per attendee.
MORE INFO:
Age Restrictions: All Ages; No Strollers allowed in venue
Dress Code: Casual
Menu: The menu will be limited during the event, which will run from 3:30 – 8:30 PM.
Sunset Session Special menu only, no regular dinner menu available.
Parking: Honolulu Zoo parking available for $1.50 per hour
Alternative parking also available at Aston Waikiki
Sunset

and Aston Banyan; hotel parking currently limited.

We look forward to your visit!